Roll-N-Lock M Series Retractable Bed Cover
Fits 2019+ Chevy/GMC 1500 Series with 5'8" Bed.
Description
The M-Series retractable truck bed cover provides you the security of a hard cover, smooth appearance of a soft cover, and convenience of a retractable cover. Its durable vinyl-over-aluminum hybrid cover design is dedicated to four season protection and optimal bed security. It tackles durability while remaining exceptionally easy to operate with its unique frictionless construction and insulated grip lever. Simply use its key to unlock the cover and begin to open towards the cab as it retracts into its compact canister. The M-Series can open, lock and close without even opening the truck's tailgate and locks in multiple open positions. Checking the box for unmatched convenience and quick access to your bed and gear. Roll-N-Lock's M-Series retractable truck bed cover has a quick and easy install, and backed by a 3 year warranty.
Features
UNMATCHED STYLE
Vinyl-over-aluminum low-profile design maintains a sleek truck bed cover appearance with an aluminum undercarriage that has a patented, contoured hinge design for frictionless rotation & theft protection
UNMATCHED OPERATION
Features a torsion spring enclosed in a 3" aluminum casing, along with patented contoured hinge design for frictionless rotation to enable effortless & secure operation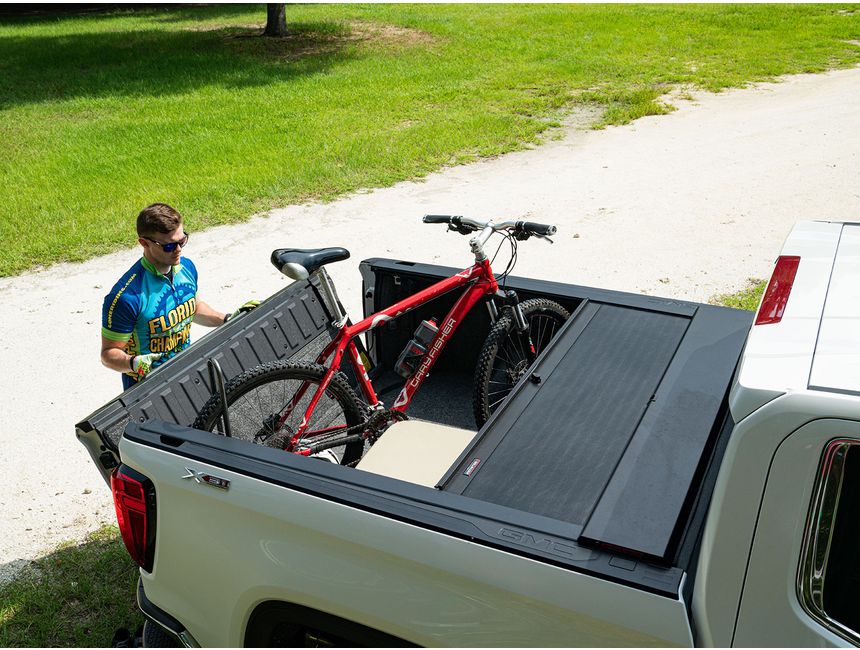 UNMATCHED STORAGE
All Roll-N-Lock covers have the most compact canister of any other retractable cover. Sitting just 7 ¼" deep & featuring an aerodynamic housing lid to preserve truck bed cargo space
UNMATCHED EASE
Simple to install with patented, clamp-on track design. All Roll-N-Lock covers are backed by a US-based customer support team, as well as a 3-year guarantee
Recommended for the Roll-N-Lock M-Series 2019 + Chevy GMC Silverado Sierra 5ft 8in Retractable Bed Cover
Product title
Vendor
$19.99 | $24.99
Product title
Vendor
$19.99 | $24.99
Product title
Vendor
$19.99 | $24.99
Product title
Vendor
$19.99 | $24.99